Part of the River
There is something about rivers. They are so real yet also magical. So tangible and at the same time mythological.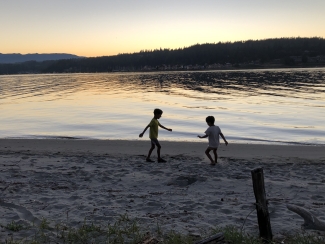 After honoring my parents in the gardens Pat and I went to the river. As we sang songs and shared stories and placed roses at various places along the river, as we moved further downstream, our purpose became less to honor them for who they had been in life and more in who they had become and now would always be. Part of a Bigger Story, Part of Timeless Song. Guardians and Guides. 
Connected in ways often incomprehensible to those who come after.
It was a special and important day in my relationship with my parents. A farewell to all they had been in life. A welcome greeting to all they had become.
Part of the River.
Here is a link to the Podcast of that day along the river.